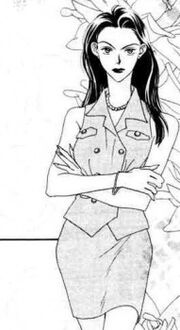 Nanba Io
is the elder sister of
Umeda Rio
and
Umeda Hokuto
and is the mother of Dorm Leader
Nanba Minami
. She is introduced in the third volume of Hana-Kimi, when she requests that Hokuto work at her inn. Her brother instead offers
Mizuki
,
Sano
, and
Nakatsu
in his place and Hokuto leaves before she has a chance to object. She discovers Mizuki's secret while she's changing out of her clothes and later provides Mizuki with more comfortable vests to cover up her developing body.
Ad blocker interference detected!
Wikia is a free-to-use site that makes money from advertising. We have a modified experience for viewers using ad blockers

Wikia is not accessible if you've made further modifications. Remove the custom ad blocker rule(s) and the page will load as expected.